Sea trout recipes, better known at speckled sea trout, are the perfect complement to an already perfect tasting fish fillet. If you polled 100 anglers and asked what their favorite inshore fish is to eat sea trout will be in the top 3. They are fun to catch and excellent to eat. It is because of this we saw so much value in having one of a kind sea trout recipes that the everyday angler could make.
Speckled sea trout is an abundant inshore fish that anglers love to fish for. They are a schooling fish so when you start catching them, usually you will catch multiple fish. Filling a cooler is never a hard thing when you find the location of trout. Speckled sea tout live on a diet of mullet, mud minnows, shrimp, and other inshore bait fish. It is this diet that allows for sea trout to have an exceptional taste when cooked. One medium size trout will produce two fillets that are perfect for grilling, frying, or baking. The fillets are a white, flakey meat that will have you asking for more. There are many ways for preparing sea trout. Some of our favorite ways for cooking trout is on the grill blackened, baked in lemon butter with herbs, and the southern way of life by deep frying it. We have sought out one of a kind recipes from the everyday anglers that will give you optional ways for cooking your trout different each time.
So you have gone out inshore fishing and filled your cooler with speckled sea trout and do not know how to cook it. Perfect, all you need is the perfect sea trout recipe that your friends and family will love. We are glad you decided to stop by Hunting and Fishing Depot and checked out our fishing recipes. We are confident that you will find a great sea trout recipes. Get out there and catch some trout and try one of our amazing sea trout recipes today.
---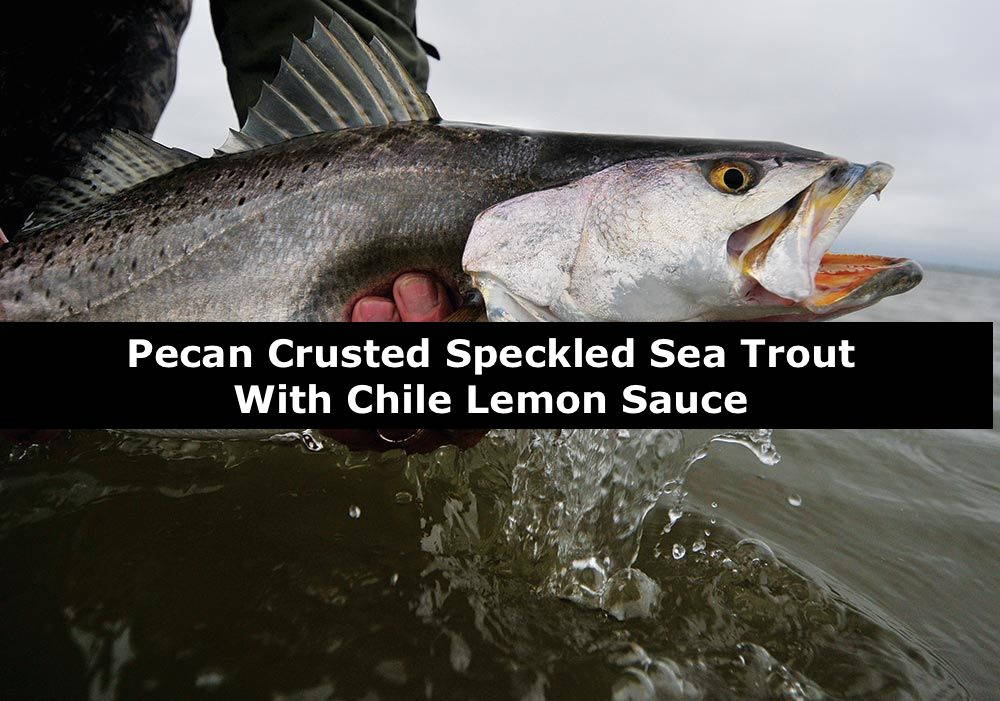 Pecan Crusted Speckled Sea Trout With Chile Lemon Sauce

Are you looking for a one of a kind way to prepare your sea trout? Our pecan crusted trout is the perfect pan-fried dinner that everyone will enjoy.