At Hunting and Fishing Depot we love our black drum recipes. Knowing how to cook black drum is something that all saltwater anglers should know. We have searched long and hard from anglers all over for the perfect recipes. We wanted to provide every angler with easy to prepare and good tasting recipes that will have your taste buds craving for more. We know that catching the fish half the battle, because preparing it can be equally as challenging. Knowing the right techniques and recipes for cooking black drum can make all the difference from a good meal to a great meal. Your family will thank you for taking the time to learn how to cook black drum.
One of the largest saltwater drums species besides redfish is the black drum. Certain times of the year these fish school and will become rather large. They are known for being bottom feeders and well cruise the bottoms for the food. They feed predominately on shrimp, mullet, and other crustaceans, which allows for them to produce great tasting fillets. Anglers target black drums for the fight and their meat. Each fish produces two large fillets that have flakey white meat. No matter if you want to fry it, bake it or grill it we will have a recipe for you.
After a long day of inshore fishing hopefully you have filled your cooler with black drum. You will need an exceptional black drum recipe to cook the perfect dish for your family. We hope that our recipes will provide you with exactly you are looking for and inspire you to try new things. The fact is black drum is a great fish to; so pairing it into a dish only makes it that much better. Get out there and catch some black drum and try one of our amazing black drum recipes today.
---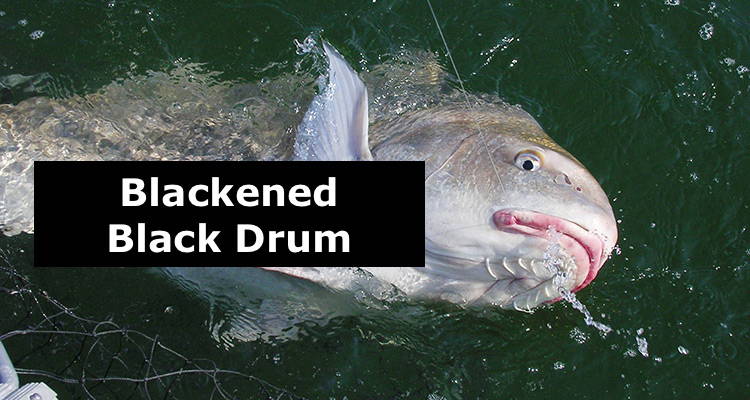 Blackened Black Drum is our favorite ways for cooking black drum. It provides the fish fillets with so much flavor, guaranteed to have you asking for more.